Pond Pump Scrappage Scheme
Save money & Save energy
SAVE MONEY & SAVE ENERGY
in 3 simple steps
The Blagdon Pond Pump Scrappage Scheme is here to help pond keepers reduce energy costs and save money.
Not only will you be rewarded for recycling your old pump, but you can also enjoy £25 OFF the purchase of a new Blagdon Amphib IQ energy saver pond pump, which will immediately give you better management and control of the energy used to operate your pump.
The scheme is open to anyone. So, whether you are a pond keeper wishing to upgrade your old pond pump or just keen to reduce your energy costs of maintaining your pond, visit your nearest Blagdon product retailer to take part in this money-saving recycling scheme

Energy saving pond pump
– Amphibious IQ
The Amphibious IQ, which is perfect for waterfalls and filters, combines low maintenance with outstanding performance, and using its digital motor technology consumes about 30% less energy than pumps of a comparable price range.
Motor Protection System: The motor protection system will halt and show "motor jammed, clean impeller, clean rotor" if the pump senses the motor is clogged or jammed. The pump can safely restart once the obstruction has been removed.
Run Dry Protection System: The pump will halt and display "water low, add water" if it senses that it has run out of water. The pump can be securely restarted once water has been added.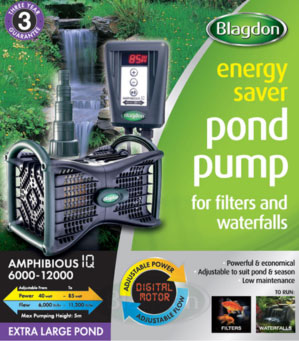 Flexible Power Usage Control & Display: The user can stop, start, raise, or decrease power and flow with the touch of a button, allowing for maximum energy savings and optimal performance.
Soft Start: When the pump is turned on, the flow gradually rises to the desired level. This lessens stress on the system's piping and filters while also reducing wear on the pump.
Designed to perform: The Amphibious IQ can be positioned in any position while submerged in the pond. Its casing contains evenly spaced holes all the way around to ensure an even flow of water to the pump, so even if some debris partially obstructs the flow, the pump will still function. Additionally, the impeller's transparent housing makes it simple to inspect for any obstructions or damage without having to unscrew it.
3 year Warranty: The Amphibious IQ bundle comes with a three-year warranty and includes a pump, controller, hose tails, and a full set of fittings.
To find out more about Amphibious IQ energy saving pond pumps visit Blagdon Water Gardening – Filter & Waterfall Pumps