The best bits...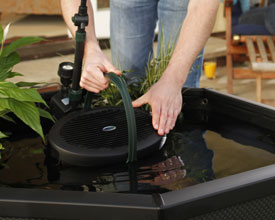 Easy to set up and maintain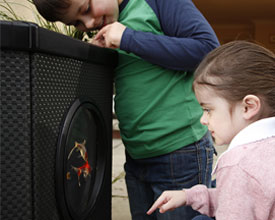 Unique viewing windows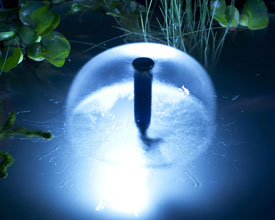 Stunning LED night illumination
Key features
Complete, easy-to-use Inpond 5-in-1 3000 'life support system' included worth £129.99 (SSP)~ Clear water guaranteed~ Easy to set up and maintain
Product overview
If the thought of sitting in the summer sun against a backdrop of flowing water, the buzz of dragon flies and watching fish peacefully swim through dappled water appeals to you, achieving this dream has suddenly become a great deal easier. Affinity Grand brings these innovative pools to larger gardens. Perfect for larger numbers of fish and growing water lilies.
Inpond 5 in 1 3000

Mocha weave panels

Black, anodised aluminium rails

Automatic night-time LED spotlight

Fibre reinforced liner

Shatter proof windows

Low voltage pump and filter

5w UV clarifier

Two planting baskets

Three fountain displays

Step-by-step set up guide

Window cleaning pad

Polymer wool filter pads

Key, fixing pins and wire
Product code
1054478
Product barcode
5015368054478
Disposal of electrical goods
N
Size
401-600 litres
Wattage
10w
Flow rate
700 ltr/hr
Consumables
Spare Parts
Warnings

Electrical standards state that:


All outdoor power supplies must be protected by a circuit breaker.

All electrical components must comply with outdoor weatherproof safety standards.

All power supplies across the garden must be carried by metal sheathed, armoured cable. If buried, warning tape must be applied.

Mains cable length
3m
Low voltage cable length
10m
Plug included

No. In the UK it is illegal for manufacturers to supply an indoor use 3-pin plug with a fixed outdoor product for safety reasons. Please see Blagdon Powersafe Switch Boxes or Outdoor Connectors for safe and easy-to-use outdoor power solutions.
Click through for available products

IP Rating
IP68
Weight
20kgkg
Max pumping height
1.25m
Voltage
Inpond - 12v UV 230v
Hz
50Hz
Assembled dimensions (HxWxD) cm
52cmx162cmx101cm - 592 litres